Jaguar Battery Service & Replacement in Chesterfield, MO
Proper care of your Jaguar battery is critical to maintaining peak performance and maximizing the lifespan of various in-vehicle systems. Perhaps it has been a while since you last had your battery checked or you're unsure of the current condition of your Jaguar battery — let the team at Jaguar Chesterfield assist you with inspecting or replacing your battery.
Visit our Jaguar service center in Chesterfield, MO, or schedule service online. You can also check with our parts center to inquire about parts for your Jaguar before you visit. Connect with our team for assistance with questions or to schedule an appointment when you contact us at (636) 777-5801.
Common Jaguar Battery FAQ
How long do car batteries last?
The lifespan of your battery varies based on how often you drive, the average duration of your drives, the use of accessories, environmental factors, and other conditions. Your battery should be inspected at each service interval or halfway between each service interval for demanding driving conditions — intervals can be found in your
digital handbook
.
How can I tell if my Jaguar needs a new battery?
Recent-year Jaguar models will display an illuminated red battery symbol on your instrument panel if an issue is detected when your engine is running. If you experience a decrease in the performance or function of electrical systems, avoid guesswork and bring your vehicle to Jaguar Chesterfield as soon as possible for a professional diagnosis.
What kind of battery does my Jaguar need?
For information about the battery for your specific Jaguar or to schedule service for your Jaguar electric vehicle, please contact our service team at (636) 777-5801.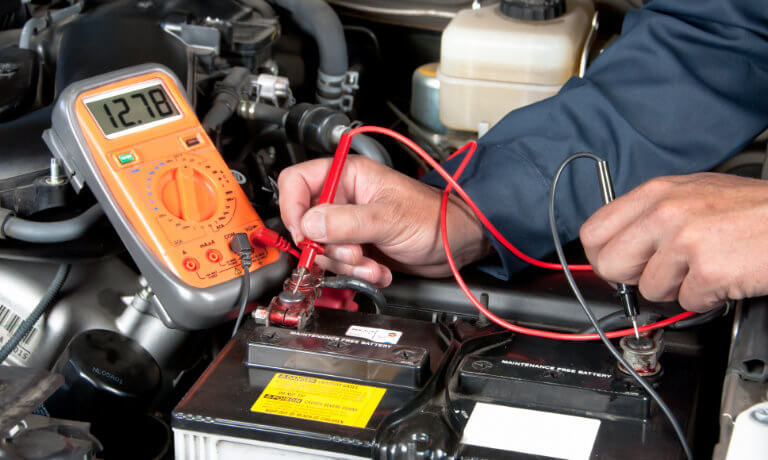 Benefits of Getting a Battery Replacement at a Dealership
Our expert technicians know your Jaguar from front to back so you can be confident that your vehicle is in great hands. We utilize the latest diagnostic tools, technology, and genuine Jaguar parts to ensure your vehicle is serviced with the utmost care so you can get back to enjoying your beloved Jaguar with confidence.
Jaguar Battery Coupons & Service Specials
Take advantage of savings opportunities on your next Jaguar service with our available service specials.
Schedule a Battery Replacement Near Me
Ready to schedule service to have your Jaguar battery inspected or replaced? Let the team at Jaguar Chesterfield assist you. You can schedule service online at your convenience or by calling our team at (636) 777-5801.